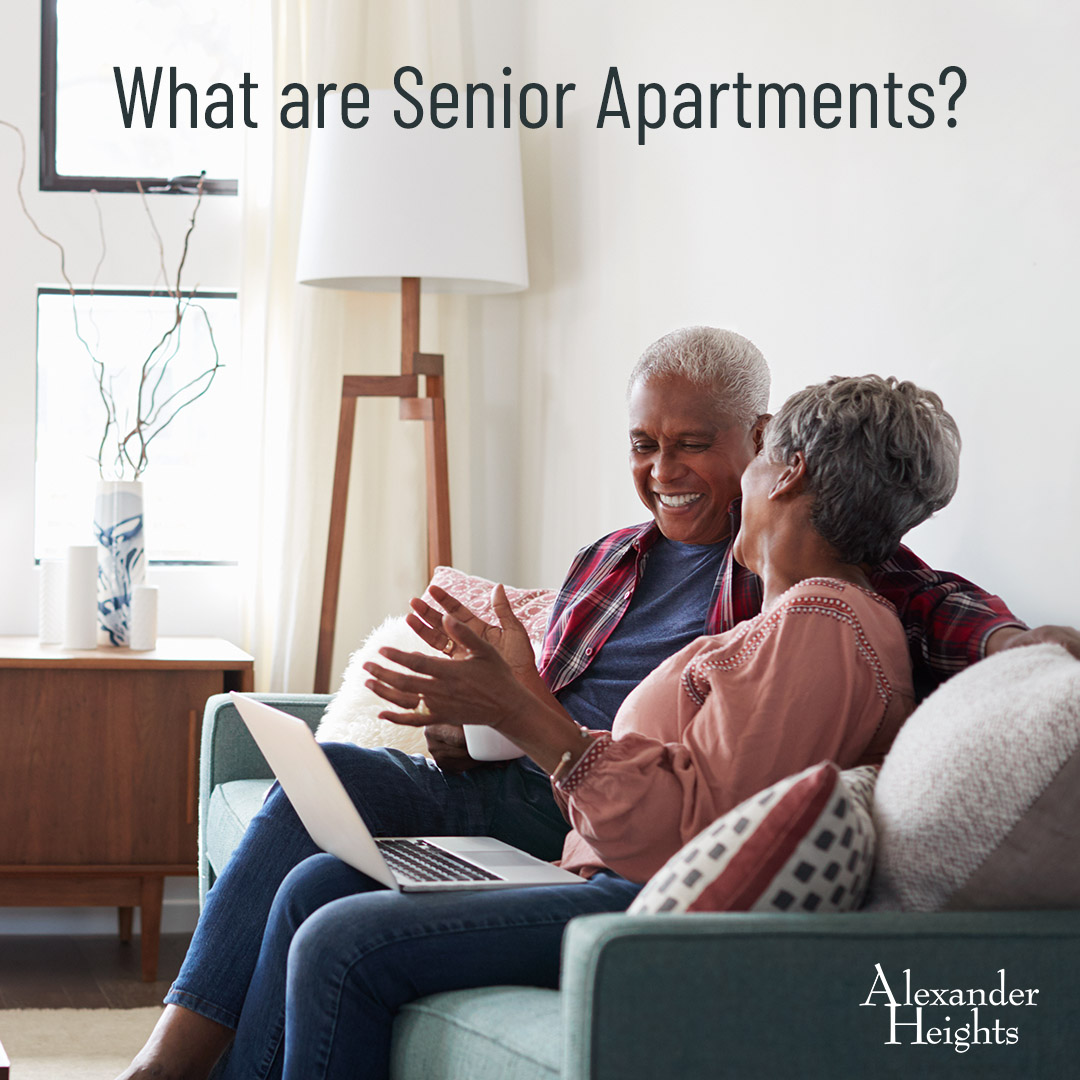 Searching for the right senior housing option can be confusing. Knowing what are "senior apartments" is important when choosing housing that fits your lifestyle. There are a few nuanced details that make finding the right senior living arrangement more than just a simple task. Once you're ready to move into a 55 or older community, you'll need to learn about the spectrum of senior housing options available. Age restricted housing is designed to accommodate the changing needs and lifestyle preferences of adults as they mature.
There are two broad groups of senior housing, lifestyle and healthcare, which can be categorized by the services each housing option provides.
Senior Lifestyle Housing
Senior lifestyle housing (like Alexander Heights Apartments) provide age restricted (either 55+ or 62+) housing amenities that cater to those who desire a maintenance free, relaxed lifestyle. Lifestyle housing can be leased, rented or owned. Often lifestyle senior housing is in condo or apartment like arrangements that allow for a high degree of independence and self-reliance.
Typical senior lifestyle apartments will have elevators (instead of stairs) in multi-level buildings, wider hallways, activity rooms, and a few other on-site recreational and social amenities specifically for residents to spend more time in their community.
Bridge/hybrid lifestyle apartment home communities are designed to bridge the gap between housing options without amenities for seniors (conventional apartments) and traditional "independent living" housing that provides meals. Alexander Heights is a transitional adult community. Our amenities and services are lifestyle oriented; combining the convenience of apartment living and the benefits of an age restricted community.
Senior Lifestyle Housing Terms
"55+" is often a label associated with lifestyle senior housing that is age restricted to residents that are older than 55 years of age. It can be used with traditional single-family homes, condos, or multi-family housing apartments.
"62+" is like 55+, but more restrictive, with residents needing to be 62 or older.
The "Active Lifestyle" and "Active Living" terms are often used to describe senior lifestyle housing that appeals to younger seniors, maybe those who don't identify as "seniors", yet they meet the minimum age requirements.
"Senior Apartments" are a purpose-built multifamily rental communities, but are not designed to provide meals or health care.
Traditional Senior Housing Options
Independent living is also considered "lifestyle," but is a separate category of housing primarily because it is considered a traditional senior housing option and because it provides meals as part of the services provided by the community operator. Independent living communities provide shelter, activities, transportation, laundry, and meals, but do not provide health care related services.
Beginning with assisted living facilities, traditional senior housing options provide more health care services for adults as they age. Assisted living provides shelter, activities, meals and the addition of daily living care services. Memory care facilities are for those seniors with memory issues that require special accommodation, and skilled nursing care facilities are for those that need daily long-term assistance.
The terminology for various levels of amenities, services, and care can be confusing, partly because they are often used inconsistently. Some communities provide a blend of concepts, so they may mix terms that could be used to differentiate other communities.
Senior Housing Spectrum
The table below shows the spectrum of care that is provided in senior housing options. Senior apartment housing bridges the gap between conventional apartments and independent living arrangements.
Orientation
Lifestyle
Health Care
Services
Shelter
Senior Focused
Amenities/Activities
Transportation,
Laundry
Meals
Basic
Care
Memory
Care
Long-term
Care
Multifamily
Conventional Apts.
✓
Hybrid/Bridge
Senior Apartments
✓
✓
Traditional
Senior Housing
Independent Living
✓
✓
✓
✓
Assisted Living
✓
✓
✓
✓
✓
Memory Care
✓
✓
✓
✓
✓
✓
Skilled Nursing Care
✓
✓
✓
✓
✓
✓
✓
Choosing the living arrangement that fit your and your loved one's lifestyle is an important decision. Having the right information and knowing your options is the first step to finding the best housing arrangement.
Contact us to schedule a tour of Alexander Heights and see how we provide luxury lifestyle apartments for seniors.